I love Cheese.. its just so yummy.. So when I stumbled across this amazing
Grilled Cheese Sandwich from Cooking Classy
, I knew my search was over and this would my recipe for the Crazy Cooking Challenge..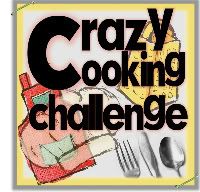 Though the recipe has ham in it.. I was just so fasinated with the idea of combining Cheese & Broccoli that I decided to make a vegetarian version of the recipe.. substituting ham with some sliced fresh button mushrooms.. And trust me, the sandwich came out yummm..
Grilled Cheese Sandwich
Ingredients
Bread - 2 slices (brown/ white/ whole-wheat)
Cheddar Cheese (grated) - 3 Tablespoon
Parmesan Cheese (grated) - 2 Tablespoon
Broccoli (chopped into small florets) - 3-4 Tablespoon
Button Mushrooms (sliced) - 3
Onion Powder - a pinch (optional)
Garlic Powder - a pinch (optional)
Black Pepper - a pinch
Salt - to taste
Olive Oil - 1 Tablespoon
Preparation
1. Add water to the broccoli florets in a bowl and microwave for about 30-45 seconds - this will soften the broccoli. Alternatively, you could steam it too.
2. Combine Cheddar Cheese, Parmesan Cheese, Steamed Broccoli, Salt, Pepper, Garlic Powder & Onion Powder in a bowl and mix well.
3. Layer the mixture over a slice of bread and then place the sliced mushrooms on it. Top with the other slice and press the sandwich gently with with both hands.
4. Heat a non-stick pan and drizzle 1/2 a tablespoon of Oilve Oil on it. Place the sandwich over it immediately. Flip the sandwich after about a minute but do remember to drizzle the balance Oilve Oil before you place the uncooked side. Leave it for about another minute before serving.. Incase you want the cheese totally melted, the sandwich could be heated for a lil longer...
5. Serve hottt.. this Crunchy Grilled Cheese Sandwich will keep you wanting moree...
Have fun visiting the other Crazy Cooking Challenge participants through the linky party below!